Morehead City
Emerald Isle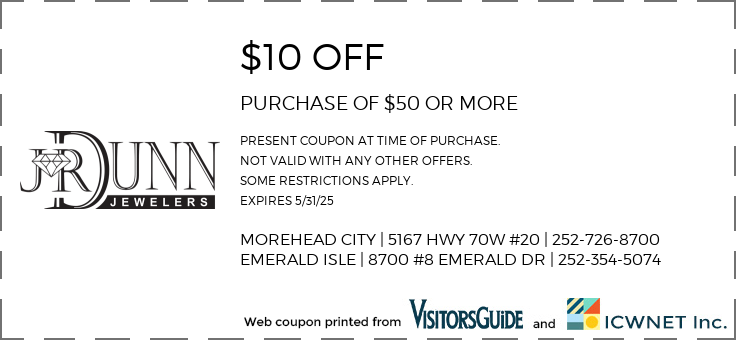 print
Featuring two locations along the Crystal Coast, and serving the region for more than 30 years, J R Dunn Jewelers is a time-tested resource for a wealth of special occasion gifts, and "just because" treasures for vacationers and Carteret County locals alike. With a fine selection of everything from wedding and engagement rings to timepieces. shoppers can find just the delicate piece of jewelry they are looking for with a visit to this exquisite and elegant shop.
J R Dunn Jewelers has two locations to cater to visitors throughout the Crystal Coast area. One shop is located in the slightly inland and populated town of Morehead City, while the other is tucked into a shopping plaza in the heart of Emerald Isle. As a result of these two distinct locations, visitors will have an easy time popping in and exploring the wide array of sparkling treasures this established jeweler has to offer. With a unique assortment of coastal-themed pieces to serve as an invaluable souvenir, as well as an assortment of gifts and engagement rings that will delight any recipient, J R Dunn Jewelers is an all-encompassing destination for everything that sparkles and glitters under the sun.
Get dazzled by the finest collections of diamonds, gemstones, pearls, and watches on the Crystal Coast!